Hope the Mission and Los Angeles County partnered to transform a former motel into interim housing for families. The Woodlands Family Shelter is part of Homekey 2.0, a program of the California State Housing Community Development Department that aims to bring together state, regional, and local public entities to develop a broad range of housing types for people experiencing homelessness.
"We're so happy to celebrate the opening of The Woodlands, which will provide 100 units for families transitioning out of homelessness," said Supervisor Lindsey Horvath. "Thank you to Hope the Mission for your incredible work to ensure that we move people toward housing, stability, and peace."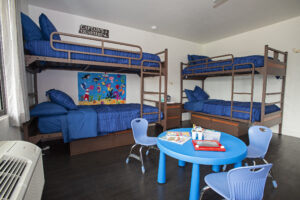 The 100 units include 400 beds. When families move in, Hope the Mission will provide three hot meals a day, job training and placement, after-school tutoring, behavioral health support, case management, and life skill classes, among other programs and services.
This is the second facility to open as part of Hope the Mission's Welcome Home initiative. Welcome Home has been executed in partnership with Los Angeles County, with the shared goal of opening three sites that will house families and individuals experiencing homelessness in Los Angeles. The Woodlands Family Shelter is the second of the three new facilities to open. Alvarado Family Shelter opened in March 2023.
Hope the Mission works to prevent, reduce and eliminate poverty, hunger, and homelessness by offering immediate assistance and long-term solutions. They operate 18 facilities across the city, focusing on a 'housing first' model.
Learn more about The Woodlands in this article by Dwell Magazine.