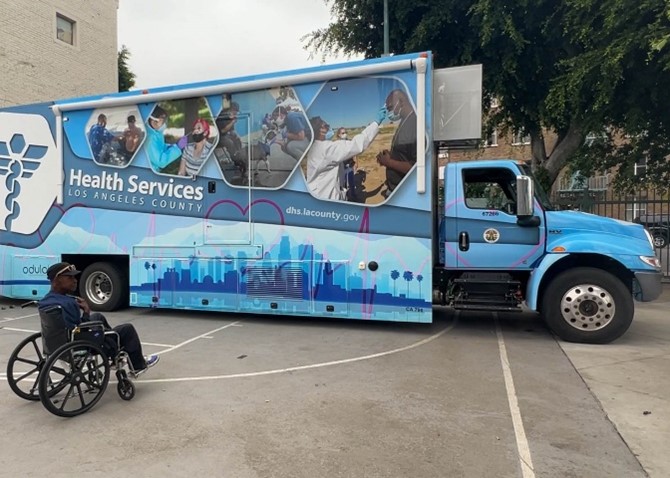 Housing for Health, a division of the Department of Health Services, has launched a fleet of medical field units that are now making daily stops at homeless encampments throughout Los Angeles County to address urgent health and social needs among people experiencing homelessness.
Considered a first-in-the-nation effort for its scale, staffing and comprehensive services, each of the four specially equipped trucks provides direct and consistent care through a team doctors, mental health professionals, nurses, substance use counselors and social workers.
"These mobile clinics will continue our ability to provide consistent, low-barrier, trauma-informed care that is comprehensive, responsive, and patient-centered," said Sarah Mahin, director, Housing for Health.
Each Housing for Health mobile medical unit is equipped with full-service exam rooms to provide primary care, such as vaccines and medications; urgent care procedures such as wound care, ultrasounds, and blood work; woman-focused care such as cervical cancer screening, diagnosis for sexually transmitted diseases, obstetrics, and prenatal care; and lifesaving COVID-19 testing and healthcare services. Other services include day-of lab results, behavioral health care, psychiatry and field-based medication assisted treatment.
A passenger van is also assigned to each mobile medical truck to assist in bringing unhoused people to specialty care centers, shelters, clinics, or other programs for more complex health care or social services.