Mary Peña lost the space she was renting when her landlord turned it over to a relative who was about to undergo surgery and who needed to be with family.
With everything shut down due to the COVID-19 pandemic, and having only a small income, Mary could not find another space. She lived on the streets for about one and a half years, mostly outside of a drugstore, relying on the kindness of strangers.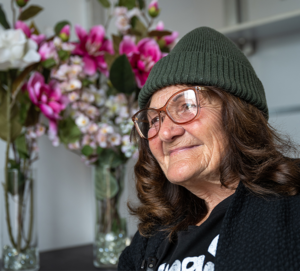 When Esperanza Villa, a community of 25 Tiny Homes, opened in Baldwin Park, Mary became one of the first people to move in. With help from her City Net case manager and Union Station Homeless Services housing navigator, Mary was able to move into her own apartment in West Covina.
The City of Baldwin Park opened Esperanza Villa in partnership with the San Gabriel Valley C Esperanza Villaouncil of Governments. Los Angeles County later partnered with the City of Baldwin Park and contributed Cities and COGs Interim Housing (CCOGIHS) funds to enable Esperanza Villa to remain open.
CCOGIHS provides supportive services at interim housing projects where people experiencing homelessness have a pathway to permanent housing. The County Board of Supervisors initially invested $10 million into CCOGIHS and later added another $5 million.
To date, seven cities have been awarded CCOGIHS grants for a total of nearly 190 beds/units. Cities and COGs can click here to apply.