Homekey has been the fastest, largest, most cost-effective addition of interim and permanent housing in California history.
Los Angeles County has used Homekey to acquire 25 properties, mostly hotels and motels, for conversion into interim and permanent housing for people experiencing homelessness — more than 1,600 units total, so far.
Initially launched to protect vulnerable residents from the COVID-19 pandemic, Homekey makes grant funding from the state Department of Housing and Community Development available to cities, counties, housing authorities, tribal entities and other local public entities to acquire and then convert hotels, motels, multi-family apartments, and more, into permanent or interim housing.
The County is making the most of this unprecedented opportunity and is providing supplemental funding to renovate and operate the units.
Referrals to Homekey sites are made through the Coordinated Entry System.
HOMEKEY ROUND 1
Launched in 2020, Homekey 1.0 enabled the County to acquire 10 motels with a combined 847 units in Baldwin Park, Compton, Hacienda Heights, Harbor City, Long Beach, Norwalk, Whittier, and unincorporated Los Angeles.
Sharonda, Laura, Beverly and Halmut are just a few of the people who have stayed at Homekey 1.0 properties. Click here to get to know them.
One property immediately became permanent supportive housing (PSH), but the rest started out as interim housing. The goal is that, by 2024, all will be PSH.
In the summer of 2022, the County selected qualified owners/operators to rehabilitate and/or operate the properties as PSH. In the fall of 2022, the Board of Supervisors authorized transferring ownership of the properties pending state approval. Renovations are scheduled in 2023.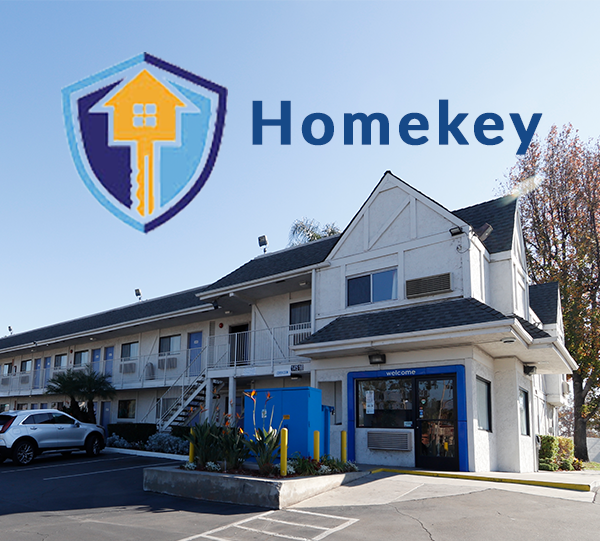 HOMEKEY ROUND 2
In 2022, the County secured 14 hotels and multi-family apartments through Homekey 2.0.
These consist of 720 units of interim or permanent housing in Boyle Heights, Compton, East Hollywood, Inglewood, Koreatown, Redondo Beach, Lancaster, San Pedro, Westlake, Woodland Hills, and unincorporated Los Angeles.
Nine of the Homekey 2.0 properties are designated as interim housing, including 291 units for families, 69 units for youth, and 61 units for veterans, all of whom will receive support towards permanent housing solutions.
The remaining five properties, with a combined total of 299 units, are to serve as PSH.