The Los Angeles Homeless Services Authority has introduced a new level of transparency and accountability through the establishment and publication of Key Performance Indicators (KPIs), a set of metrics that measure the progress of unhoused populations in the Los Angeles Continuum of Care through the rehousing system.
The KPI presentation is available on LAHSA's website.
"Before you can improve something, you have to understand it," said Molly Rysman, LAHSA's chief program officer. "These KPIs will help us make targeted improvements so we can operate our rehousing system better and get results faster. We are more likely to reach LAHSA's strategic vision goal of reducing unsheltered homelessness by more closely following how well unhoused neighbors move from the street to permanent housing. "
Thanks to a multi-year investment from the Conrad N. Hilton Foundation and the partnership of the California Policy Lab at UCLA, the dozens of government agencies and nonprofit providers across L.A. County who operate the rehousing system are aligning how they measure its effectiveness.
"We're proud to have worked with LAHSA to support this effort to refine and improve the data that Los Angeles policymakers rely on as they address the homeless crisis in LA," comments Janey Rountree, Executive Director at the California Policy Lab at UCLA.  "Improving how these systems collect, analyze, and use this data is a key piece of the puzzle in helping to prevent homelessness and to better support people experiencing homelessness with timely and effective services."
The data shared today is the first set of performance metrics to provide a baseline view of system performance, and partners will continue to improve data quality by optimizing how data is collected and shared in the coming months. Among the measurements included in the first set of KPIs are:
Over the past three years, between 17-19% of single adults engaged by Street Outreach have moved into Interim Housing.
During the 2021/2022 fiscal year, 4,048 people moved from interim housing to permanent housing, nearly double the 2,415 in FY 2019-20.
Since 2019, we have almost doubled the number of people served by time limited subsidy programs (FY 2019-20: 6,350; FY 2021-22: 11,077).
In the last three years, 83% of people stayed housed after finishing the time limited subsidy program.
Until now, LAHSA, the 88 cities, and the county have measured performance across multiple sets of metrics and dashboards. Many of them cover only specific city, county, state, or federal funding streams or projects. These individual metrics have provided snapshots of the performance of certain programs at specific points in time, but the KPIs offer a new level of insight into how the overall rehousing system works.
The KPIs aim to improve how the LA region brings people experiencing homelessness home in four key ways:
Connect more individuals living on the street to interim housing​
Better prepare interim housing participants for permanent housing placements
Increase the number of people moving from interim housing to permanent housing​
Reduce time from someone's system entry to permanent housing placement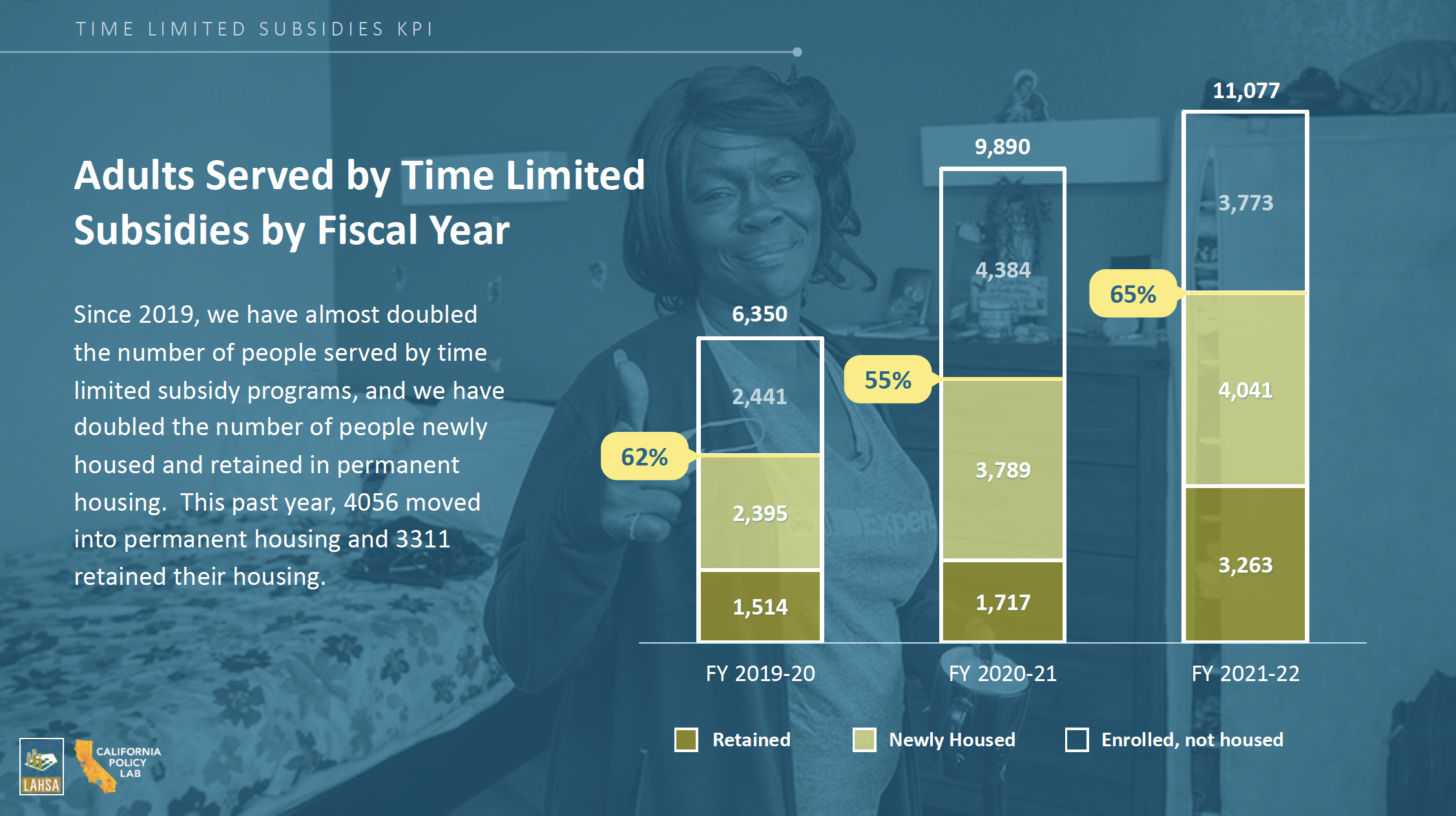 Starting early next year, LAHSA will begin publicly reporting quarterly on progress reaching established targets, improving accountability for how the system is performing. This will include metrics to measure racial equity in delivering services, to ensure the rehousing system serves those who have been historically excluded and left behind.
Insights from the first view of KPIs across the four key program areas of outreach, interim housing, time-limited subsidies and permanent supportive housing include:
Black people experiencing homelessness are readily entering permanent housing, but they are more likely to fall out of housing than other racial/ethnic groups.
Hispanic/Latino people experiencing homelessness are not readily accessing interim housing and permanent housing programs.  We need to better understand why this is.
We have seen steady growth in all of our housing outcomes: more people are moving from interim housing to permanent housing and more people are staying housed in TLS and PSH programs over the past three years.
Every year, our total number of people in PSH grows, with an average of 91% percent of people staying housed. Last year, time limited subsidies are helped 75% of participants successfully stay housed even after the program and subsidy ends.