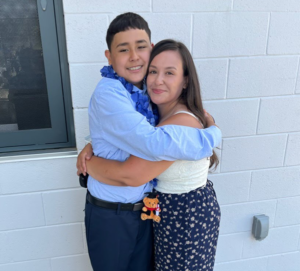 Rae Lynn, 31, a single mother to a 14-year old son, experienced homelessness for two years after experiencing a physical injury and losing her job. She reached out to family for assistance but was not able to get any help. Some of her friends let her stay in their home indefinitely but she knew she needed to find her own place. Unfortunately, Rae Lynn and her son eventually started to spend their nights in their car.
Determined to change their situation, Rae Lynn called 211, which connected her to the nonprofit service provider Home Again LA, which then enrolled her into a rapid rehousing program. Home Again LA helped her obtain an emergency housing voucher (EHV) from the City of Burbank in January 2022.
Rae Lynn said she regained her confidence after being placed in housing and has been able to start receiving mental health services and physical therapy. She is no longer suffering from emotional distress and is very grateful for the help she has received. She has started to set financial goals for herself and hopes to accomplish them in the near future. Also, she intends to be a strong member of the community and help others in need.
"With God and a little bit of footwork, all things are possible," she said.