A first-of-its-kind recuperative care center and interim housing for women experiencing homelessness has opened in Skid Row.
Called The Oasis, it's a 40-bed facility designed to help women heal from illness or injury while waiting placement into permanent housing.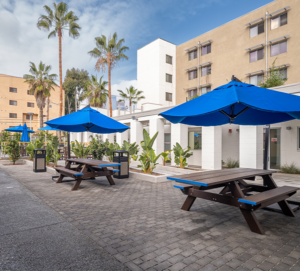 The Oasis sat empty for years before undergoing a beautiful renovation that included adding a clinical and mental health services pavilion, nurse stations, landscaped courtyard for outdoor recreation and program activities, as well as residential spaces.
Services include on-site medical monitoring, mental health and substance use counseling, and case management for highly vulnerable individuals who may be newly released from hospitals or other clinical settings.
The Oasis can accommodate as many as 120 women a year, each staying an average of 4 months. With The Oasis, the Los Angeles County Department of Health Services' Housing for Health division now has 714 recuperative care beds, plus 136 more in the pipeline.
Funding for the renovation and construction was coordinated by DHS Housing for Health's Capital Improvement Intermediary Program (CIIP) with nonprofit partner Brilliant Corners, and in collaboration with JWCH, which now serves as the onsite service provider.
Ongoing operations are funded by Los Angeles County through Measure H, and by the City of Los Angeles through LAHSA. The facility was designed by Egan Simon Architects and constructed by Ruiz Brothers Construction Co., Inc.