Construction is under way on an innovative 5-acre complex in Santa Fe Springs that will feature interim and permanent supportive housing and affordabwe apartments for low-income and vulnerable seniors and families, and homeless families with children.
Located at Lakeland Rd. and Laurel Ave., the overall project, "From Homeless to Homeowner," is the first of its kind in California.
The interim housing component of the development has received support from across the spectrum, with Los Angeles County Supervisor Janice Hahn being its most ardent champion from inception, providing seed funding of $4.8 million to the project. Supervisor Hahn said, "This is an important project that will not only provide safe temporary homes for families with children experiencing homelessness, but will also provide these families with some stability and the support they need to get back on their feet. This is going to fill a gap in our system in the Southeastern region of LA County and I am proud to support The Whole Child's effort here."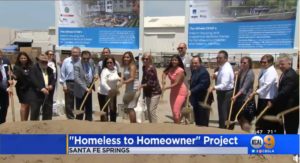 The interim housing facility will be a three-story building fully developed and managed by The Whole Child. The site could provide interim housing to up to 40 homeless families at any time and is expected to serve over 150 families per year. It will feature a robust supportive services center with consultation rooms, family room, teen area, computer lab, playground and pantry, among other amenities.
Supervisor Hahn said the complex will also include 101 affordable apartments and 18 town homes that will available for ownership. The town homes will be constructed by Habitat for Humanity. "My office secured nearly $5 million in funding for this project, the first of its kind in Southeast LA County, because I know we need more innovative programs like these in our community to help lift people out of homelessness, into shelter, into permanent housing — and then, eventually, into homeownership," she said.
The City of Santa Fe Springs provided the land and $1.1 million funding.  Additional support came from the state and philanthropy. Constanza Pachon, Chief Executive Officer of The Whole Child, states, "We are grateful to The City of Santa Fe Springs, Supervisor Janice Hahn, and our many philanthropic partners for their early and unwavering support of this project. We are glad to have found a path to full funding with the support of Governor Newson and Congresswoman Sanchez. We are all deeply committed to a shared vision of ending family homelessness."