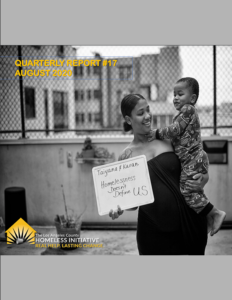 Los Angeles County is in Year Three of a 10-year effort to combat and prevent homelessness funded by Measure H, thanks to the affirmation and support of voters across LA County.
We knew when we got started that this complex crisis was many years in the making and would not be solved overnight.
Thanks to you, there is a palpable sense of hope across the County. Because of you, our homeless services system is doing more today than ever before in helping thousands of families and individuals move from homelessness to housing. And working with you, we have built an ever-growing network of partners and community ambassadors, all focused on helping our most vulnerable neighbors.
The Homeless Initiative's 17th quarterly report shows that we are making measurable progress across the full scope of the County's commitment to combat and prevent homelessness.
Los Angeles is investing, responding and working together and we are making a difference. And with your active involvement, we will continue to bring our homeless neighbors home and create lasting change.